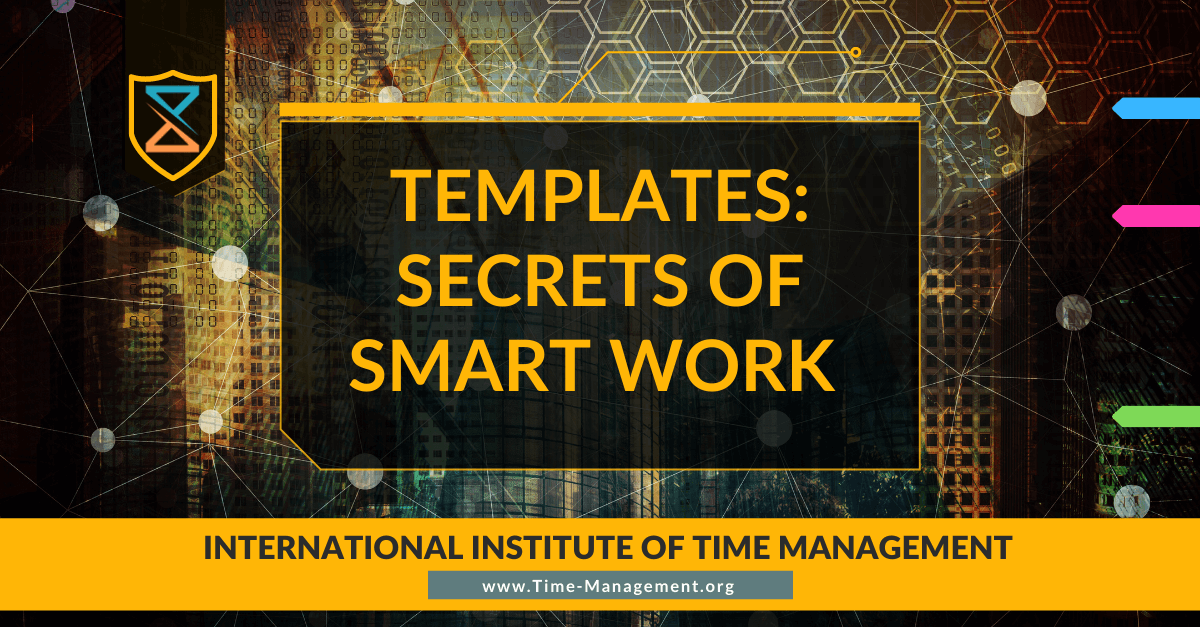 The Secrets of Smart Work: Templates!
The Secrets of Smart Work:
Templates!
A template is a predesigned layout that can be used to formulate a new document without the hassle of thinking about the format and structure in a short span of time. The template is a methodical and systematic arrangement of structure designed by experts in order to help people save time in deciding the look, design, and layout of the document. We only need to enter data based on our preferences. Templates are ready-made specimens for documents that embody important composition, design elements as well as defined rhetorical structure. They can be replenished with graphical and textual content to make a complete and customized document as per requirement. The template, being a predesigned unit, provides the basis for the layout of websites, newspapers, social media posts, and flyers. They are designed in such a way that it is easy for users to input their data easily, enrich with graphics and beautify with multimedia content. 
Templates allow us to work smart instead of hard. The hard job is to think of a hierarchy where we are going to put our desired manuscript, spending a lot of time deciding its structure and then being concerned about its validity and acceptability. If we are not using any templates, we are customizing a design for a specific purpose. We can not do this for every single task we perform in a day. It is very tiresome and exhausting. It is hard to design every format by ourselves for each type of document we are going to need in a day. In this way, we are going to spend all our day on formatting and hence continuous labor and no focus on the exact task of real importance. It is an obvious perk of using a template that it is a lot more abrupt than creating a document from scratch. The template embodies standard text that can be edited if we want to avoid redundancy and if we don't want to, we can prevent ourselves from the tedium of typing all the text ourselves. As templates are already designed in a particular format, it eliminates the challenge of thinking up and confirming a layout. Since these templates are designed by professionals, we benefit from the authenticity of proficient people. Templates turn out to be effective in sophisticated formatting that we lack most of the time. They enable our work to look invariant and consistent. They are essentially helpful in creating letters, memos, announcements and making them standardized. We can use templates over and over again without ever being overwritten. If your needs require a very specific template, which you can not find anywhere, it is smart to create one, as it will save you time in the future. This is the place and time when you should be working and thinking ahead smartly, instead of diving into the repetitive routine again and again. 
In the era of technology, we are blessed to have masses of resources of templates that are automated and readily accessible to be used by us. Canva is an example of it. Microsoft Word, PowerPoint, and many distinct applications offer templates for their users. The offer of templates is not limited to writing or content creation, designing, and web development. It also devotes templates to its customers' solace and enhances their smartness and efficiency. Templates are offered in website development, graphic designing, and even mobile application generation, so the smartness offered by templates is unlimited. 
There are innumerable uses and advantages to implementing templates into our tasks in order to accomplish them with increased efficiency, less hard work, in a short time, and with better impact. A few of them are described as follows:
There are innumerable uses and advantages of implementing templates into our tasks in order to accomplish them with elevated efficiency, less hard work, in a short time, and better impacts. A few of them are described as follows:
Flexibility:

 Templates increase flexibility as they are easy to revamp and they offer professional consistency. They can be improved to meet all the instructional requirements. They can be used to track needs and are easy to update. Also, they are super customizable. 
Easy to use:

In this digital epoch, we have access to an unlimited reservoir of templates that provide us with a chance to choose from pre-configured instructions. Their availability gives us more power, more choice, and sovereignty over the use of templates. Being a predesigned configuration, it is easy to use and manipulate for prerequisites. Most of them are available via cloud subscription, which makes them accessible from anywhere. 
Uniformity: Since

they are designed by experts, they have uniformity in their layout. We are free to take advantage of a professional's experience and mastery. Using templates can make our documents look uniform, consistent, and authentic. It helps navigate the standardization of our tasks.
Reduce work time: having templates available means we don't have to spend time creating a layout or configuration from scratch.

It conserves our precious time. We can use templates furthermore.
Intense development: Templates aid in the completion of work in a fraction of the time.

They are the perfect solution to go for when you have shorter deadlines. They help speed up the process and reduce time consumption, liberating us from hard work. 
Advanced learning practice:

Templates provide a natural procedure to organize information. They save us from the overwhelming fitting of knowledge. It is an adequate way of learning to compile a document for forthcoming demands.
Improves focus:

templates take care of necessary requirements, allowing us to focus on what is actually vital. They liberate us from the hassle of designing configurations and permit us to focus on what is left to do.
Inspiration:

Templates are a source of inspiration for users as they invoke creativity and innovation in ideas. We can simply go for a pre-existing template or make changes to form a unique setup to store our information in a consistent way. They help us learn from what is already made and stimulate us to do something innovative.
Authenticity:

Templates are customized by specialists, so they are bound to be authentic. When we employ them in our endeavors, we can enjoy the fruit of their effort. Authenticity is a highly in-demand feature of any task. 
Error reduction:

the use of templates aids in the reduction of errors in the process of production and orientation of the document. They ensure quality content with a standard look without much programming.
From all the above, you can see that templates can enhance efficiency by helping with designing layouts and filing in engaging content. They reduce time consumption, prevent excessive hard work and repetitive activities. They help us work smart and in an effective way. They boost productivity and improve focus. They ensure we create a standardized and authentic document for ourselves. If you would like to know more about the specific techniques of creating templates to boost your productivity, the International Institute of Time Management offers the most effective time management courses in the world. All courses are backed by science. They are designed in a way to boost your productivity in a very short amount of time. Courses will level up your time management, planning, task handling skills. The great start of the real transformation is the course – Time Management That Actually Works – Backed By Science.  Time management course mentioned above will enhance your knowledge and skill set and you will become the real owner of your life. It will be a guide on a way of transformation from hard work to smart work. 
Looking for the Best Time Management and Productivity Growth Courses?
There is no time to waste!
The Premium Time Management and Productivity Booster Online Courses are for leaders who want to be able to effectively manage their time, plan, and achieve their goals and objectives, also for Individuals and leaders who want to learn how to prioritize and make effective, goal-oriented decisions in the shortest time possible. 
Tag:articles, Automation, Best, Better, Boost, Business, CEO, certificate, Certification, Certified, Checklist, Course, Courses, Decision, Free, georgetumanishvili, Hacks, Improvement, Increase, institute, International, Learn, Management, Manager, Master, Online, Optimization, Planning, Power, Practice, Productivity, Psychology, Routine, Schedule, Skills, Step, Success, Task, Techniques, time, TimeManagementInstitute, Tips, Training, Tricks, Work