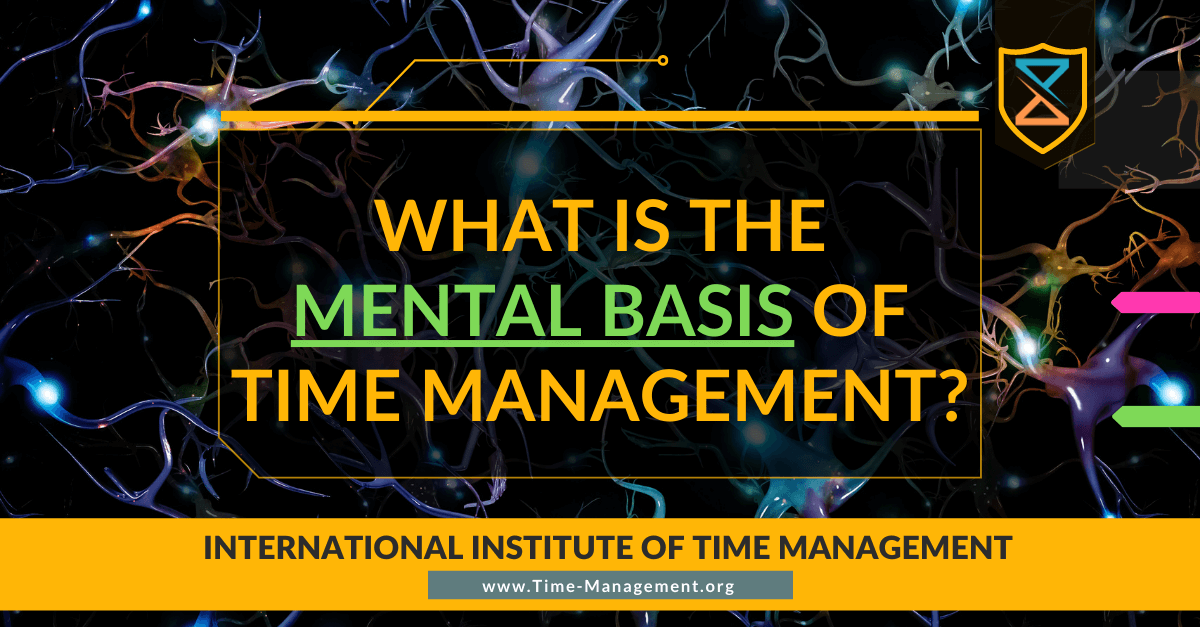 What is the Mental Basis of Time Management?
What Are the Mental Basis of
Time Management?
Time management is the science and art of productivity. Time management skills should not be confused with time management techniques or personality traits. Personality traits are features of one character, the integral part of temperament shaped by genes and life experiences. But time management cannot be blamed on genes. As Coyle points out, "the talent hotbed is not built on identifying talents but constructing them day by day". Nevertheless, with many time management techniques, you can find the right time management solution for your personality.
Luckily, a treasure of research delves into the skills that undergird time management. Time management is defined as a decision-making process that structures time to change environmental circumstances. Three particular skills decide time management's validity.
Awareness: Realistically thinking about time by understanding it as a limited resource;
Arrangement: Organization of the goals and tasks for effective use of time;
Adaptation: Keeping an eye on the use of your time while performing activities and changing priorities;
This suggests that it is not about time management but mind management. Out of the three skills, the arrangement is probably the most familiar. However, awareness and adaptation are not widespread.
It is said that time is money, but it is more than money; it is life. You can have more money, but you can never have more time, with the exception of situations where you can buy time (quality of life, treatment, access to medical services, and so on). It is an irrevocable and irreplaceable resource. If time is gone, you are gone. Managing time is managing life as it is just ticking away and it is always up to you if you want to use that productively or destructively.  As it was once said by Paul j.Meyer, "Productivity is never an accident; it is always the result of a commitment to excellence, intelligent planning, and focused effort."
In current situations, we're living in a fast-paced and very competitive world. Managing time efficiently is a key ability that is not always innate but can be learned and practiced in our daily life to get a healthy, stress-free, productive, and successful life. Here is what we can do for effective time management, productivity, and success in the completion of tasks.
Planning
The first step of time management is planning. It is difficult to manage our day if we do not have clear plans about which task should be completed. Indeed, a day never goes completely in accordance with our plans, but it is still good to calibrate the day instead of being dimensionless. Dwight D. Eisenhower said that 'plans are worthless but planning is everything. It is said that a goal without a plan is just a wish, better to have a  plan to take action.  Proper planning techniques will provide you with the ability to foresee what needs to be done and prioritize important tasks of the day, while executing the plan with proper self-indulgence, so you will become capable of evaluating the practicality of the plan that you have created and executed. It is famously said by Thomson Edison that good fortune is what happens when opportunity meets with planning.
The best possible way to develop planning as a skill is to build a consistent habit of using a calendar in the form of an app. We can simply plan our week or day ahead. It creates a vision in our minds of how the day should be. Of course, we are free to negotiate timing and tasks according to requirements and ease. Sometimes an hour of planning can result in a save of effort worth 10 hours. It is very important to differentiate the list of tasks from the calendar in the app, as the list of daily tasks could be done on paper, as it has different psycho-emotional and chemical meanings for the body. Once we do have tasks on the paper and complete them – that creates a psycho-emotional sensation of success, which could give us the necessary chemicals to feel better, to feel that the day is successful. 
Deciding and prioritizing  
The idea of planning is linked to the visualization of spending a good day productively and fruitfully, as well as for deciding about priorities and making hard decisions about how we will utilize our time. Every person in the world has the same number of hours in a day, but how we spend those hours makes a distinction. This is where time management and prioritization come into play. Good time management means making smart decisions about your time and prioritizing important tasks among others, putting them in the first place.
Some people tend to go with the flow and work in the order they were exposed to. It is not necessarily a wrong habit, but doing so can lead to missing important deadlines that could actually make a difference in your life and career. Hence, you are exposed to turbulence on your way forward. In this way, you lose control of your life and start adhering to other people's commands and guidelines. That can snub your choices sometimes and disturb your mental peace. Managing your time yourself is an underrated skill but beneficial in the long run.
Coming to prioritization skills, Eisenhower's matrix is probably the best method for learning prioritization, it recommends arranging pending tasks in four quadrants that says:
Urgent and important – do

Urgent but not important – delegate

Not urgent, important – put it in your calendar

Not important and not urgent – eliminate
Building a system
Productivity comes with a system that is customized and personalized so that as soon as we wake up, there should be a coherent and complete design of how we are going to spend our day. By system, we mean a design that specifies when, where, and what to do, and how the completion of one task should lead to the completion of the next, and so on. As far as motivation is concerned, it comes with getting things done. In this way, the creation of the system is the creation of a loop of consistent working design.
"I value self-discipline. Creating a system that makes it next to impossible to misbehave is more reliable than self-control." Self-control is a difficult thing. We cannot always stop ourselves from procrastinating. We cannot always avoid temptations with our willpower. Here the system plays its role. If we have created a system that is devoid of those hindrances that stop us from working on our goals and tasks, it makes us keep going in a consistent and controlled way, leading to motivation and productivity, as well as the satisfaction that comes with the completion of our tasks and achieving our goals.
Setting deadlines
It is a very useful method for setting up deadlines for completing certain tasks. As it is said, it expands to fill the time slot you are free for the completion of a certain project. If you allot a lot of time to the completion of a task, there is a very high chance that you will complete it in that time, although it was only a matter of minutes. Without having short deadlines, we tend to waste time at leisure, underestimating the task's complexity. This kind of mentality results in either missing the task or not doing it appropriately.
Setting up a short and fake deadline can really help you to do the work in a short time effectively, and you will even get the time to look for your mistakes and correct them. It is very much like Pomodoro. This is a process of tricking your brain, that you are going to work for a shorter period of time. You develop an interest, get started, and finally get it done.
Rest and less stress
Your mind gets to work well when it is in a good (comfortable) state. To make it work well, we need to take care of it. We become productive when we get enough rest, which can include getting enough sleep, taking a day off, not worrying about work, balancing work and personal life, and not overworking ourselves. Otherwise, our mental health can deteriorate, which can result in a sharp decline in our productivity. Striking the balance between work, play and rest is an essential part of time management. Working can indeed become very complex and stressful at certain times. In these situations, we need to become focused and immune to distractions in order to avoid the feeling of being pathetic. We need to develop good problem-solving and complex coping skills that include the capability to overcome stress and to deal with tough times and difficult people. We can work best when we are in the best state of mind.
As a final message, Time Management is a skill that can be developed by using some techniques and consistently practicing them. Time Management helps to design a balanced life that is productive in terms of work and personal life. That can lead to clarity, better (smarter) decision making, flexibility, an increase in your focus, problem-solving skills, and help you achieve more. In short, a better and well-organized life. Time management can not be ignored as it can play a crucial part in our lives. It is a key component in the creation of a better version of ourselves. Sparing a little time to learn about time management will have immense benefits now and throughout our lives. The International Institute of Time Management offers the most effective time management courses in the world. All courses are backed by science. They are designed in a way to boost your productivity in a very short amount of time. Courses will level up your time management, planning, task handling skills. The great start of the real transformation is the course –  Time Management That Actually Works – Backed By Science. Learn, practice, and get certified! Time management courses will enhance your knowledge and skill set and you will become the real owner of your life. 
Looking for the Best Time Management and Productivity Growth Courses?
There is no time to waste!
Tag:articles, Automation, Best, Better, Boost, Business, CEO, certificate, Certification, Certified, Checklist, Course, Courses, Decision, Free, georgetumanishvili, Hacks, Improvement, Increase, institute, International, Learn, Management, Manager, Master, Online, Optimization, Planning, Power, Practice, Productivity, Psychology, Routine, Schedule, Skills, Step, Success, Task, Techniques, time, TimeManagementInstitute, Tips, Training, Tricks, Work