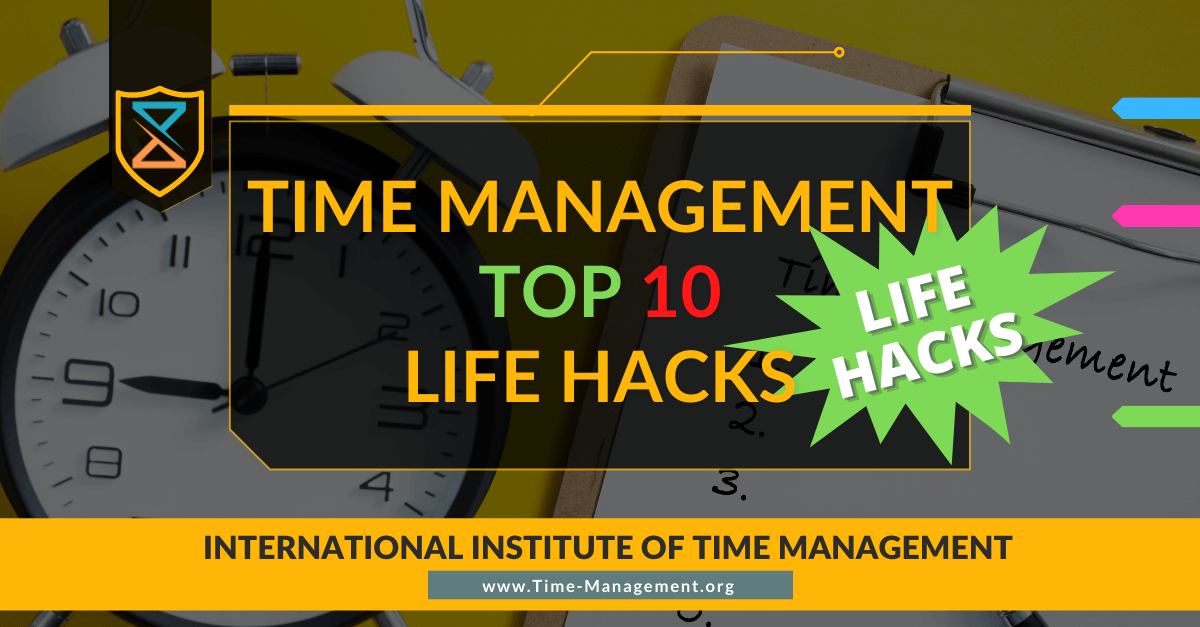 Time Management Life Hacks – Top 10
Time Management
TOP 10 Hacks
Do you frequently feel stressed because you have too much work or too many responsibilities? Do you ever feel like you have more tasks on your sheet than you have time to complete them?
The trick is to organize your tasks and use your time wisely in order to accomplish more each day. This can help you reduce stress and increase productivity at work and at home.
Time management skills take time to develop and will differ from person to person. The key here is to figure out what works best for you and your hectic schedule.
If you made a resolution earlier this month to work smarter, stop procrastinating, and be more productive, your best intentions may have been quickly derailed by your regularly scheduled work routine.
According to Jason Womack, a workplace performance expert, changing the way we do our work to improve productivity is difficult because our processes have become habitual, and in many cases, these habits have made us successful (even if they drove us to the edge of sanity in the process).
According to Womack, the biggest mistake professionals make when it comes to time management is continuing to devote time to activities that no longer merit it.
"They keep going even when they should stop," he says. "They continue to type an email after answering a question in the subject line. They continue to speak on the phone after they have already addressed the purpose of the call. They remain in the meeting room after the agenda items have been discussed."
To get you started, here are ten ways to improve your time management and productivity, and growth.
Tasks Should Be Delegated
It is common for all of us to take on more responsibilities than we are capable of handling. This frequently leads to stress and burnout.
Delegation does not imply that you are avoiding your responsibilities, but rather that you are learning proper task management. Learn how to delegate work to subordinates based on their skills and abilities to get more done. This will not only save you time, but it will also make your team members feel like they are an important part of the work puzzle. 
Establishing Work Priorities
Make a list of tasks that require your immediate attention before the start of the day. Unimportant tasks can eat up a lot of your valuable time, and we tend to give them too much of our attention because they are easier or less stressful.
Identifying urgent tasks that must be completed on that day, on the other hand, is critical to your productivity. Once you know where to direct your efforts, you will be able to complete tasks in a manner that is convenient for you and your schedule.
To summarise, prioritize your important tasks to stay focused.
Make a Schedule
Carry a planner or notebook with you and make a list of any tasks that come to mind. The ability to check off items as you complete them will provide you with a sense of accomplishment and keep you motivated.
Make a simple 'To Do' list before starting the day, prioritize the tasks, and concentrate on the essentials. Make certain that these tasks are also attainable. If you have a large task that needs to be completed, make it the only thing on your list. You can postpone the others until the following day.
To improve your time management skills, consider making three lists: work, home, and personal.
Establish Deadlines
When you have a task to complete, set a reasonable deadline and stick to it. When you have decided on a deadline, write it down on a sticky note and place it near your workspace. This will provide you with a visual cue to help you stay on track.
Set a deadline a few days before the task is due so that you can complete any tasks that may come up. Set a deadline for yourself and meet it; reward yourself for completing a difficult challenge.
Get Rid of Procrastination
One of the things that has a negative impact on productivity is procrastination. It may result in the waste of valuable time and energy. It could be a major issue in both your professional and personal life.
Many people find it difficult to avoid procrastination. When we are bored or overwhelmed, we tend to procrastinate. To break up the more difficult tasks, try to schedule smaller, fun activities throughout the day. This may assist you in staying on track.
Handle Stress Wisely
When we accept more work than we are capable of completing, we frequently experience stress. As a result, our bodies begin to feel tired, which can have an impact on our productivity.
Some productive stress-reduction strategies include:
 

Taking a walk outside

 

Exercising

 

Meditation practice

 

Contacting a friend

 

Taking part in your favorite hobby

 

Playing music or listening to a podcast
When it comes to lowering your stress response, the key is to figure out what works best for you. If you don't have time for anything else, try a few breathing exercises. These take only a few minutes and have been shown to reduce stress-inducing hormones.
Stay away from multitasking
Most of us believe that multitasking is an efficient way to get things done, but the truth is that we perform better when we focus and concentrate on one task at a time. Multitasking reduces productivity and should be avoided if you want to improve your time management skills.
To-do lists and deadlines can help you stay focused! You'll be able to do a better job this way. Wait until you've completed one before beginning another. You'll be surprised at how much more you'll be able to accomplish.
Begin Early
Most successful people have one thing in common: they get up early to sit, think, and plan their day.
You are more calm, creative, and clear-headed when you get up early. Your energy levels begin to decline as the day progresses, affecting your productivity, motivation, and focus.
If you're not a morning person, simply try waking up thirty minutes earlier than usual. You'll be surprised at how much you can accomplish in that amount of time. If you don't want to work, use it to get some exercise or eat a healthy breakfast. This type of routine will also help you be more productive during the day.
Take frequent breaks
Take a 10- to 15-minute break whenever you're feeling tired or stressed. Too much stress can harm your health and impair your productivity.
Even better, make a schedule for your breaks. It allows you to relax and return to work with renewed vigour later. If you know a break is on the way, you'll be more likely to overcome boredom or a lack of motivation to complete the task at hand.
Take a walk, listen to some music, or stretch for a few minutes. The best option is to take a complete break from work and spend time with your friends and family.
Master the Art of Saying No
If you believe you are already overburdened, politely decline additional tasks. Before agreeing to take on additional work, take a look at your to-do list.
Many people are concerned that saying no will make them appear selfish, but the truth is that saying no is one of the most effective ways to care for yourself and your time. When you take care of this, you'll find that you have more energy to devote to the important things, which your friends and family will appreciate.
Final Thoughts
You'll be more focused and get more done in less time if you're clear about what's on your plate.
A daily practice of prioritizing tasks and organizing them in a way that saves time while achieving more is required for good time management. Use the strategies listed above for a few weeks to see if they help you. You might be surprised by how much more time you appear to have. If you would like to learn the unique and life-changing techniques of Time Management, the International Institute of Time Management offers you one of the best courses in the world. Time Management That Really Works – Backed By Science. This course is developed by the world's well-known scientist – founder of the Time Management Institute, professor, Dr. George G. Tumanishvili. With this course, you will learn the life-changing techniques of the world's busiest managers and you will master time management and become the real owner of your time. Also, you will learn how to manage others' time wisely to boost productivity to the maximum. 
Looking for the Best Time Management and Productivity Growth Courses?
There is no time to waste!
The Premium Time Management and Productivity Booster Online Courses are for leaders who want to be able to effectively manage their time, plan, and achieve their goals and objectives, also for Individuals and leaders who want to learn how to prioritize and make effective, goal-oriented decisions in the shortest time possible. 
Tag:Automation, Best, Better, Boost, Business, CEO, certificate, Certification, Certified, Checklist, Course, Courses, Decision, Free, georgetumanishvili, Hacks, Improvement, Increase, institute, International, Learn, Management, Manager, Master, Online, Optimization, Planning, Power, Practice, Productivity, Psychology, Routine, Schedule, Skills, Step, Success, Task, Techniques, time, TimeManagementInstitute, Tips, tipsandtricks, Training, Tricks, Work