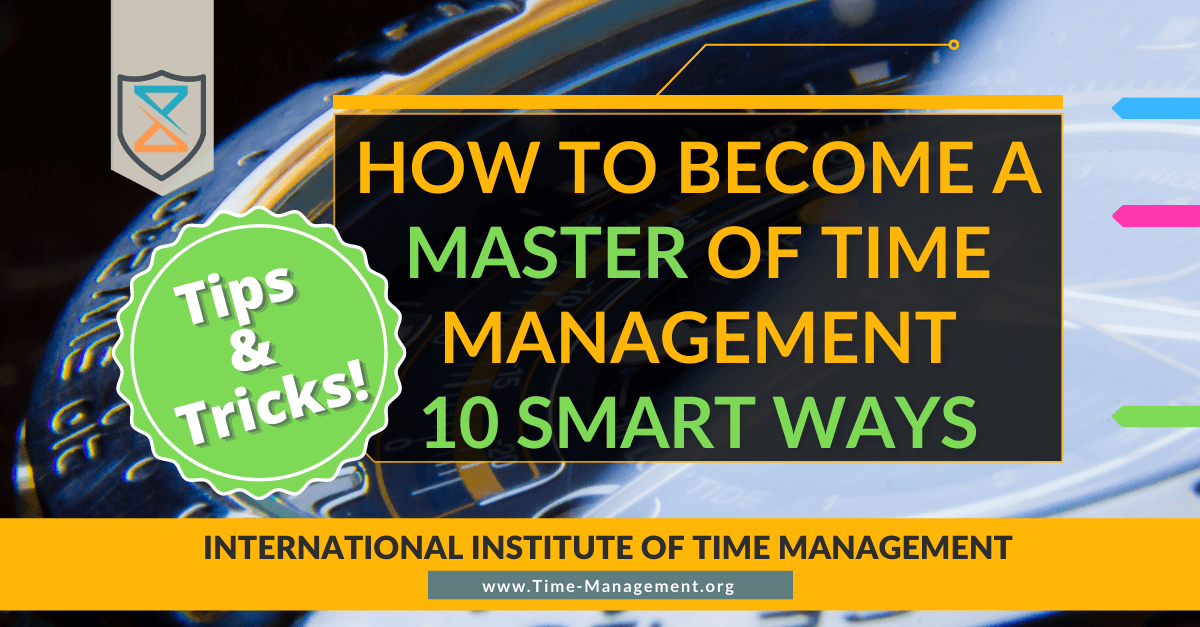 10 Smart Ways: How to Optimize Your Day and Become a Master of Time Management
10 Smart Ways: How to Optimize Your Day and Become a Master of Time Management
A professional's mastery of time management skills allows them to complete their daily tasks promptly and effectively. If you are a professional who struggles with time management, knowing different strategies to improve your time management abilities can be beneficial. We will go through ten techniques that will help you with mastering your time management skills.
Time-management skills are a comprehensive collection of abilities that assist you in managing your time and guarantee that it is used as efficiently as possible during the workday. Among the most important time-management skills are:
This is the process of assigning a priority level to various tasks and ensuring that higher-priority tasks are completed before lower-priority chores. Prioritizing your duties effectively necessitates a thorough awareness of how long each project will take you to accomplish. You will be able to perform your critical chores more quickly if you learn to prioritize your obligations.
Make a list of tasks that require your immediate attention before the start of the day. Unimportant tasks can eat up a lot of your valuable time, and you tend to give them too much attention because they are easier or less stressful.
Identifying urgent tasks that must be completed on that day, on the other hand, is critical to your productivity. Once you know where to direct your efforts, you will be able to complete tasks in a manner that is convenient for you and your schedule.
Planning
It is critical to be able to examine a task or a series of tasks and create a timeline for its completion. When creating task plans, effective time management necessitates good planning abilities to ensure that you can build and apply an ordered understanding of your obligations.
Carry a planner or notebook with you and make a list of any tasks that come to mind. Even ordinary paper should be fine and will serve the purpose. The ability to check off items as you complete them will provide you with a sense of accomplishment and keep you motivated. Also, it is very important that those check-offs will give you chemical fuel that will ensure the optimal and comfortable balance of dopamine, serotonin, and norepinephrine. 
Make a simple 'To Do' list before starting the day, prioritize the tasks, and concentrate on the essentials. Make certain that these tasks are also attainable. If you have a large task that needs to be completed, make it the only thing on your list. You can postpone the others until the following day.
To improve your time management skills, consider making three lists: work, home, and personal.
The capacity to assess your own stress levels and make adjustments at work can help you maintain a low-stress level. You can stay focused and motivated while you complete each of the daily activities on your plan by rewarding yourself, delegating your responsibilities, and taking breaks as needed. Understanding your stress levels will also enable you to take more effective breaks throughout the day and recognize when you should decline tasks that would overwhelm you.
Some productive stress-reduction strategies include:
 

Taking a walk outside

 

Exercises

 

Meditation practice

 

Contacting a friend

 

Taking part in your favorite hobby

 

Playing music or listening to a podcast
Goal-setting
Setting clear goals for yourself at work, such as completing a certain task or completing a portion of a job, is an important aspect of time management. Setting a series of realistic and ideal goals helps you to use each accomplishment as a source of motivation and encouragement throughout the day. Goal-setting can help you boost your efficiency on an hourly and daily basis when combined with stress management.
Communication
This refers to your ability to communicate verbally and in writing your goals, plans, and needs. You can create efficient timetables and strategies if you have strong communication abilities. It also aids you in the more successful completion of your chores through delegation and teamwork.
To enhance your time management, try one or more of the

following ten techniques

:
Begin your tasks as soon as possible;

Set boundaries for what you will accept;

Allow yourself to take breaks;

Make a list of your priorities;

Make a list of your responsibilities and deadlines;

Organize your work environment;

Recognize your productivity patterns;

Make use of technology to help you stay on track;

Concentrate on a single task at a time;

Make your positive behaviors stick by reinforcing them;
1 – Begin your tasks as soon as possible.
If you have the time, starting a task before you are supposed to start working on it can assist you in getting through the earliest stages of assignment preparation. This allows you to start planning your strategy ahead of time, which might help you to avoid procrastinating.
2 – Set boundaries for what you will accept.
Many people will take on as many obligations as others ask of them in order to make a good first impression and show commitment to their profession. Taking on too many responsibilities, on the other hand, can contribute to creating a timetable that is difficult to fit with all of your commitments. Setting limitations on the number of current jobs you are willing to take from others will assist you in avoiding taking on too many duties.
3 – Allow yourself to take pauses.
Dedicating time in your day to small breaks from work will allow you to decompress and return to your active chores with fresh eyes. Learning when to take devoted breaks during the day will also aid in the development of healthy stress management behaviors.
4 – Make a list of your tasks and prioritize them.
Determine the relative importance of each of your duties. Assigning a priority to specific projects can assist you in concentrating your attention on the chores that require the most time. You may learn how to better create your schedules and recognize which tasks are worth outsourcing by practicing prioritization of your chores.
5 – Make a list of your responsibilities and deadlines.
Make a precise timetable for each of your active tasks and assign specific deadlines to each of them. This will help you visualize which jobs require more effort and will give you a better idea of how quickly you can finish your assignment. Make it a practice to keep your schedule up to date, since a detailed timetable can aid in the development of your planning and prioritization abilities.
6 – Organize your work environment.
An ordered workstation can help you save time during the day by eliminating the need to search for the materials you will need to finish each task. Furthermore, improving your organizational skills will help you improve your planning abilities. It will be easier to relax on a daily basis if you don't have to worry about losing track of important documents or work materials.
7 – Recognize your productivity patterns.
Everybody's productivity levels fluctuate throughout the day in different ways. Some people are more productive in the mornings, while others may not reach their peak production until the afternoon. Identifying your most productive times of day will help you make better use of each area of your day. You can ensure that your peak production is committed to lengthier, higher-priority projects by scheduling faster or easier work during your less productive times.
8 – Make use of technology to help you stay on track.
Every year, time monitoring and daily management tools become increasingly widely used in the workplace. Daily management software incorporates your time-tracking findings into your plan, while time-tracking software allows you to track how long it takes you to accomplish particular tasks. These tools, when used together, will help you construct more realistic and precise timetables, as well as catch you before you become distracted or procrastinate for too long.
9 – Concentrate on a single task at a time.
Multitasking may appear to be a viable method for completing various things more rapidly. Those who focus on completing two projects one at a time, on the other hand, are more likely to complete each task faster and more accurately than those who multitask. Spending your time concentrating on finishing a single task at a time will also help you avoid distractions.
Most of us believe that multitasking is an efficient way to get things done, but the truth is that we perform better when we focus and concentrate on one task at a time. Multitasking reduces productivity and should be avoided if you want to improve your time management skills.
To-do lists and deadlines can help you stay focused! You'll be able to do a better job this way. Wait until you've completed one before beginning another. You'll be surprised at how much more you'll be able to accomplish.
10 – Maintain your positive practices
You may wish to reinforce your accomplishments with a modest incentive when you finish activities or see a difference in your productivity by developing your time-management skills using some of these approaches. Finding a fun reward for yourself that doesn't interfere with your everyday productivity might help you relax and stay motivated to improve your time management abilities.
Final Thoughts
You will be more focused and get more done in less time if you are clear about what's on your plate. A daily practice of prioritizing tasks and organizing them in a way that saves time while achieving more is required for good time management. Use the strategies listed above for a few weeks to see if they help you. You might be surprised by how much more time you appear to have. If you would like to learn and master your time management skills with the techniques from the busiest managers in the world, the Time Management Institute offers you a special, backed by science Time Management training course, that will enhance your ability to plan and control your time. The training course is developed by the founder of the International Institute of Time Management, professor, and professional coach Dr. George G. Tumanishvili. This premium course is designed for anyone who wants to be able to manage their own time, plan and achieve goals and objectives properly.
Looking for the Best Time Management and Productivity Growth Courses?
There is no time to waste!
The Premium Time Management and Productivity Booster Online Courses are for leaders who want to be able to effectively manage their time, plan, and achieve their goals and objectives, also for Individuals and leaders who want to learn how to prioritize and make effective, goal-oriented decisions in the shortest time possible. 
Tag:Automation, Best, Better, Boost, Business, CEO, certificate, Certification, Certified, Checklist, Course, Courses, Decision, Free, georgetumanishvili, Hacks, Improvement, Increase, institute, International, Learn, Management, Manager, Master, Online, Optimization, Planning, Power, Practice, Productivity, Psychology, Routine, Schedule, Skills, Step, Success, Task, Techniques, time, TimeManagementInstitute, Tips, tipsandtricks, Training, Tricks, Work