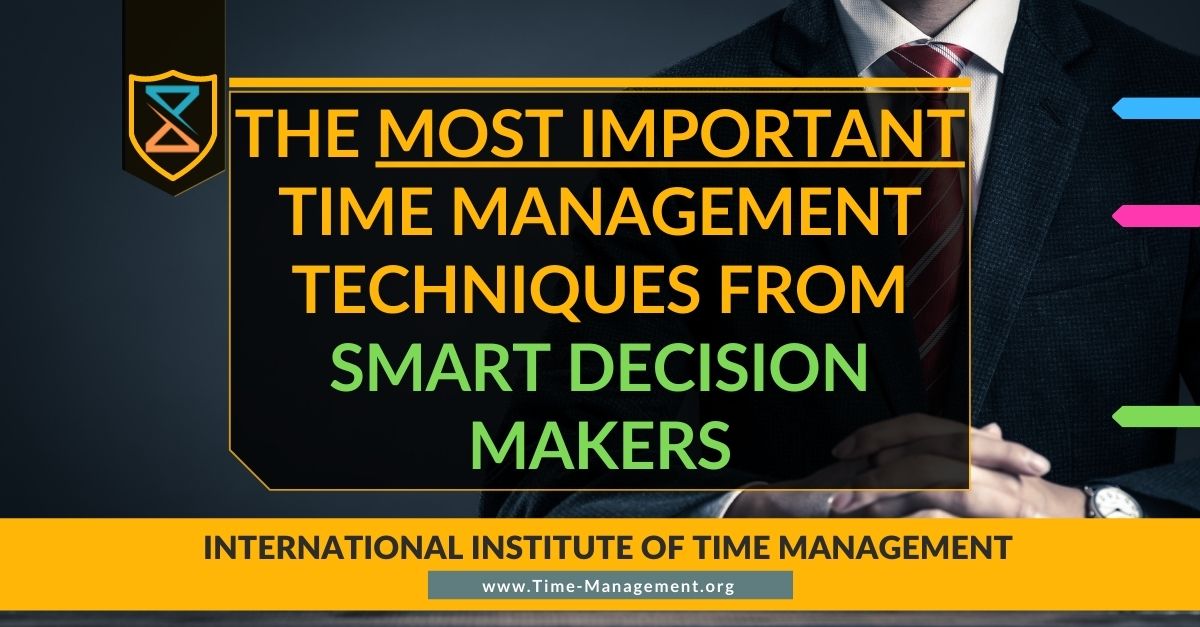 The Most Important Time Management Techniques from Smart Decision Makers
Smart Decision Makers' Time Management Secrets
There are several different techniques and methods integrated by triumphant people for effective time management. Time management is to decide and choose how to spend time on meaningful chores to perform our best. Good time management aids in yielding more in a day. Aside from innate ability, many techniques can help with time management and lead to a better way of life and a better version of oneself. Techniques are actually methods to conserve or effectively schedule tasks. The following are some of the most widely used and well-known techniques for time management.
Eat that Frog: This technique was introduced by  Brian Tracy "you can not eat every tadpole and frog in the pond. But you can eat the biggest and ugliest one, and that will be enough, at least for the time being." It means that even if we can't get much done in a day, we should devote all of our attention to one difficult and frightening task. We should try our best to complete that specific task. Every day when we wake up, we should recognize our most important task of the day and devote all our efforts to getting it done. For the completion of the task, we should deprive ourselves of all distractions and concentrate on that giant treat, which is the only goal of the day. The accomplishment of that task motivates us to do more, builds acceleration for future work, and makes us self-aware of our capacity for maneuvering. We should always do hard jobs first. It boosts our ability to complete fewer, harder jobs easily and efficiently. The best time, it is suggested, to eat frogs is in the morning. If the hardest job is completed first, it makes us aware of our potential to perform and all chores are done effectively.
Batching: It is a grouping of similar tasks that can be done concurrently. This is a technique that maintains your flow of work without the interruption of continuity. It is like creating a system of working in such a way that we do not have to shift our focus to another type of task.  In this technique, a productive system is created in which completion of one task should lead to another and similar tasks should be done in one sitting in one batch. Batching ensures that we maintain our focus on a particular type of task. It reduces procrastination as it makes a system formulated that can work effectively. It can save time and make us focus on our work. Batching can make us more organized and very susceptible to approaching work. Batching makes our life simple as it encourages us to arrange the array of recurring tasks in one batch and try to accomplish them in one go. 
Automate tasks: To automate means to get tasks performed automatically without too much external input. Task automation can be defined as the use of various tools and software to automate repetitive manual tasks. It simply means to get the job done without human involvement every time for a particular little thing as different software and tools are used to hand down that job.
There are innumerable recurring tasks that we have to execute in our daily life. If we are doing them manually instead of automating them, we are wasting our invaluable resource of time. It is a smart way of perpetuating our tasks. Automating tasks can free up our time so that we can focus on creative tasks which require strenuous effort and attention. There are many software and applications that facilitate us with automating our tasks, such as Grammarly to proofread our documents, clickup to schedule, Buffer to schedule our social media posts, and many others. Automating tasks reduces time and allows us to be innovative and inventive.
Set a time constraint: When we decide to complete a task by a certain time, we become more productive. We pivot our focus on that task completely to get it done before the deadline. It is an insanely helpful technique for managing time in a better and advanced way.  As Parkinson's law states, "work expands so as to fill the time available for its completion". When we reduce the duration of a task to finish it, our brain becomes more focused on completing it in that decided time. This technique pushes our limits and we acknowledge our true potential for working speed and intensity of focus.
SMART Goals: Reasonable time management is bound to be related to a goal that we should be aware of the direction we are advancing to. One of the most famous techniques for goal setting is the SMART goal. The SMART goal concept was introduced by George T.Doran in 1981. This technique can be used as an effective method to define distinct and smart goals. The underlying idea is very simple. Every letter of the word smart signifies characteristics of a goal as
Specific: It should be clear in terms of the desired result. That means clarity about what to achieve.
Measurable: There has to be a way through which progress can be measured.
Achievable: The goal should not be beyond the limits but should be able to meet resources.
Related: A goal should have some context that describes the reason why we want to achieve it.
Time limit: There should be a clear-cut deadline for the goal to be achieved.
Kanban Board: Kanban has a Japanese origin which means "signboard." The underlying idea is to have a visual board to track the progress of work. Several columns are drawn on the board for visualization of the level of each task. The usual columns on the board are To do, In Progress, and Done. Then sticker notes are used to track the progress of tasks as well as to represent needs and prerequisites for the accomplishment of tasks. Generally, different colors of sticky notes represent different types of tasks. In this digital era, there is a wide range of software available that supports Kanban techniques such as Trello.
Pomodoro: It is another famous technique of time management, invented by software developer Francesco Cirillo in the 1980s. It is a very simple technique. According to it, we should divide our daily work into small intervals with small breaks. It encourages us to be attentive to one task for 25 minutes and then have a small break of a few minutes in between. Then restart the Pomodoro to study again, and after a few sets, you can have a longer break. Some of the useful Pomodoro trackers are Tomighty, Pomotodo, and Tomato Timer.
GTD- Getting things done: This technique can be used as an effective method to define distinct and smart goals. The idea behind this technique is quite simple and clear. This method was generated by David Allen. It plays a role in breaking down the work into smaller doable actions, gaining more focus, and motivating us to complete the action as it is not beyond our comprehension now. It can be done in the following steps:
Note down the tasks that we want to accomplish.
Make chunks of tasks based on similarities so that they can be done collectively or at one time.
Make a list containing three columns to make it clear why we are doing this task, what is the desired result and what is the purpose. Now it's time for action.
Empower and motivate people to complete tasks that result in more motivation and productivity.
Pickle Jar Theory: This is an eminent technique that empowers us with the ability to figure out which work is significant and what can be ignored. It can help us properly plan our chores and give us time to prioritize work. This is how it works. Let's imagine a pickle jar filled with sand, pebbles, and rocks. The sand will sit at the bottom of the jar and the other ingredients will be at the top.
Sand interprets disturbing tasks embedded in our day, such as calls, messages, and emails.
Pebbles are the interpretation of work that needs to be done but it is not very urgent.
Rocks represent important tasks that should be done on the very day as they are important and urgent.
This technique makes us visualize our significant tasks and encourages us to give attention to them. On the other hand, it makes us realize our distractions where we are wasting our time so that we can manage our time suitably.
All these techniques are tried and tested many times by victorious people and the busiest managers on the planet. They regarded them as useful and effective ways to improve time surveillance. These techniques are widely utilized to treasure the recourse of time to monitor its efficient and effective use in our lives.
Looking for the Best Time Management and Productivity Growth Courses?
There is no time to waste!
The Premium Time Management and Productivity Booster Online Courses are for leaders who want to be able to effectively manage their time, plan, and achieve their goals and objectives, also for Individuals and leaders who want to learn how to prioritize and make effective, goal-oriented decisions in the shortest time possible. 
Tag:abcd analysis, articles, Automate tasks, Automation, Batching, Best, Better, Boost, Business, CEO, certificate, Certification, Certified, Checklist, Course, Courses, Decision, Eat that frog, eisenhower, Free, georgetumanishvili, Hacks, Improvement, Increase, institute, International, Learn, Management, Manager, Master, matrix, Online, Optimization, pareto, Parkinson's Law, Planning, Power, Practice, Productivity, Psychology, Routine, Schedule, Skills, Step, Success, Task, Techniques, time, Time Blocking, time management, TimeManagementInstitute, Tips, Training, Tricks, Work