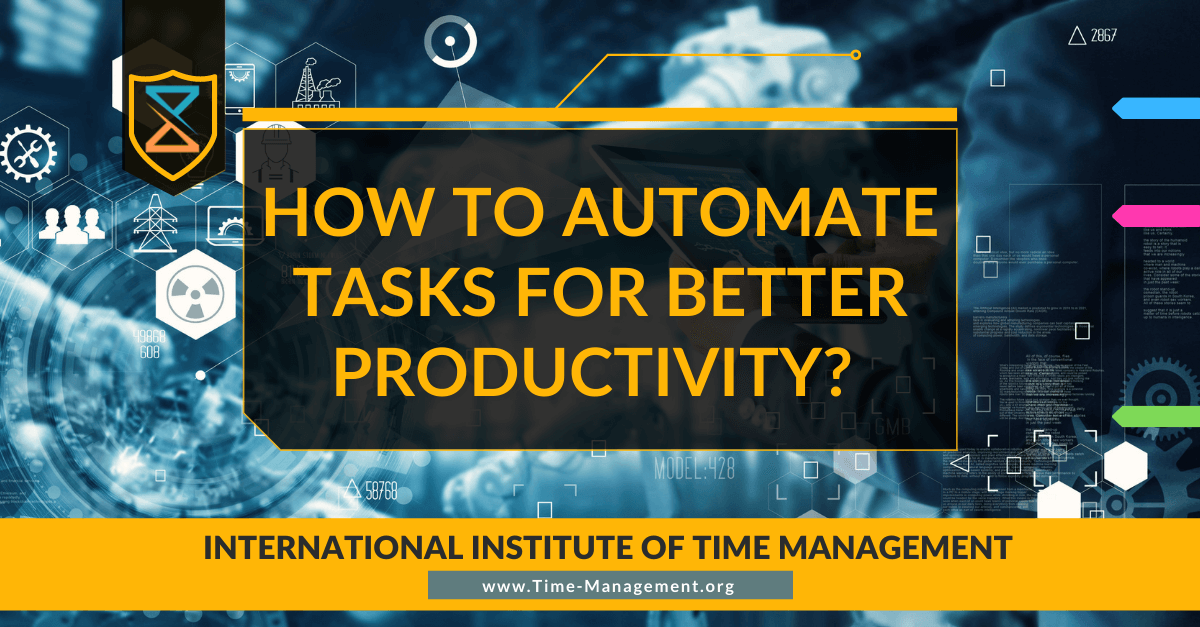 How to Automate Tasks for Better Productivity?
How to Automate Tasks for
Better Productivity?
Automate tasks to be more productive in less time and with less effort. Each repetitive action could and should be taken as a pattern. Working smart means using automation, which allows us to be more productive by reducing the time that could be spent on repetitive actions. 
To automate means to get tasks performed automatically without too much external input, quite often to move things from human to tech. Task automation can be defined as the use of various tools and software to automate repetitive manual tasks. It simply means to get the job done without human involvement every time for a particular little thing as different software and tools are used to hand down that job.
Approximately only 20% of the working day is spent on doing important jobs, while 80% of it is wasted on tasks that have little value. As we know, productivity is the matter of being effective and efficient at work, which can be difficult to achieve, especially when we are exposed to millions of distractions, noise, meetings, mail, and YouTube. There are numerous ways of being productive to improve the efficacy of your work and find more time. Automating tiresome and monotonous tasks can free up some of our time, which can be expended on work that adds value to life. In this digital era, where we have a plethora of tasks to do on our lists, we want them completed magically and here automation comes to help.
For instance, consider the Reddit user who claimed to have automated his complete job as a programmer. According to him, "in the past six years, he has done maybe 50 hours of real work". Since the task was automated, "so basically nothing". The obvious lesson that can be learned from this incident is that automation can be a powerful way to save time at work.
One of the biggest benefits of workload automation is a considerable increase in productivity. As a result, we can get more done in less time. Automation is an important method that can help us to reduce labor costs and increase output.  Nowadays, in uplifting any business, automation technology has led to a reduction in costs of up to 30%. Being available and reliable is the widely known perk associated with automation. Automation empowers us by taking care of repetitive tasks and makes us more engaged in achieving our short-term and long-term goals.
Which tasks should be automated?
There are millions of recurring mundane tasks that act as hindrances for productivity that can be automated. These are the tasks that do not directly add worth to our day but are crucial. Below you can see the list of simple tasks that can be automated from different niches.
For our social media, we can look into content management programs like

Hootsuite

, which help write social media posts in advance and then disperse them throughout the week using a scheduler.
For blogging, many blogging sites come up with an option to schedule posts in advance. We can write numerous blog posts one day, every month and set them up to be published automatically.
Event registration: if we have organized an event, we should be sure to put together a prewritten email with directions about what to bring in and all other necessary details. Having a standard one-pager will prevent dozens of discussions.
Invoice reminder: If we have a client who owes payment,

Freshbooks

allows us to create automated reminders for them and helps you to avoid having to compose such reminders manually.
Backing up files in administrative tasks is an essential precaution that doesn't demand your undivided attention. We can simply set up a cloud-based backup like

Dropbox

where we can establish a daily or weekly time for background backups. It can help save the effort of half a day and there is no need to save the files to an external hard drive.
Email signatures may seem like a trivial thing, but having a title and contact information saved in your email signature will help you save a few seconds. Add up all those seconds and consider their compound effect.
Paying bills: in coordination with the bank, we can set up an automatic payment to ensure our payments arrive on time and we spend less time filling in cheques in the span of every few days. It is a helpful way of tracking our money expenditure, and we do not write cheques. Sounds cool!
Responding to Emails: It is obvious we do not want to send auto-generated emails every time we are asked the same question, but if we are asked the same question over and over again, it is handy to set up canned responses through Gmail, which we customize with details we have sent before.
Editing and proofreading documents can be a hassle. It takes a lot of time to compose a document and then proofreading and editing becomes a burden. Currently, there is a lot of software that helps proofread your creation as well as suggest amendments.
Fill in online forms: It is a common observation that people are usually not big fans of filling in online forms. Some of the subscription emails or signing up for online services are quite long and take up time that is not desired. Technology helps us automate that as well. For example,

Roboform

s

aves us from retyping similar information such as names, addresses, or billing information on our computer and uses it automatically to fill in forms. It is really satisfying to fill in an online form without putting every character by yourself.
Advantages of automating tasks 
Plus points commonly attributed to automation include higher production rates and increased productivity, reduced time, and shorter working weeks. Higher output and increased productivity are the leading reasons justifying the use of automation. Despite the claim of improved quality of workmanship by humans, the automated system performs manufacturing processes with less variability than human workers, resulting in greater control and consistency of quality outcomes.
Using automation to solve everyday problems ranging from planning, manufacturing, marketing or administration can have a major impact on efficiency. It can save an enormous amount of time, freeing up management's small tasks and helping to create new plans for opportunities. 
Automation allows us to avoid worrisome tasks and lets us shift focus to vital functions that are innovative and efficient with the use of our time. Automation really empowers us to be more productive by getting ourselves more engaged in our goals and skipping inconsequential tasks that use up our precious time but enhance less or no worth for the day. With automation, we are provided with more free rein to innovate, identify problems, propose solutions, and share insights for refinement. 
Automation facilitates us with the chances of growth, freeing us up from labor-intensive tasks to concentrate on more strategic goals and averting the chances of human errors. Integrating automation in our lives helps increase efficiency, productivity and inspires us to be more creative. It can certainly help humans work smart instead of hard, by reducing the number of hours spent on tackling tasks manually. 
Time is needed to set up an automated system, but the effort of that time can save us from spending hours on the least fruitful tasks. In an extremely competitive epoch, automation is absolutely convenient for humans to exceed in productivity. Automation is a way of better planning, improved management, maximizing endeavor, easy integration, and exacerbated productivity.
We can say that automation is truly one of the best ways of achieving accuracy. Automated tasks are easy to handle, relevant tools are accessible, and their costs justify their benefits. Plenty of tasks can be automated related to management, marketing, research, social media, finance and accounting, human resources, administration, and organizing events. Dealing with all these tasks manually might be tiresome and repetitive, but this could be automated very quickly, which would help you to clear time slots for more important and/or creative activities. 
Looking for the Best Time Management and Productivity Growth Courses?
There is no time to waste!
The Premium Time Management and Productivity Booster Online Courses are for leaders who want to be able to effectively manage their time, plan, and achieve their goals and objectives, also for Individuals and leaders who want to learn how to prioritize and make effective, goal-oriented decisions in the shortest time possible. 
Tag:Automation, Best, Better, Boost, Business, CEO, certificate, Certification, Certified, Checklist, Course, Courses, Decision, Free, georgetumanishvili, Hacks, howto:, Improvement, Increase, institute, International, Learn, Management, Manager, Master, Online, Optimization, Planning, Power, Practice, Productivity, Psychology, Routine, Schedule, Skills, Step, Success, Task, Techniques, time, TimeManagementInstitute, tipsandtricks, Training, Tricks, Work