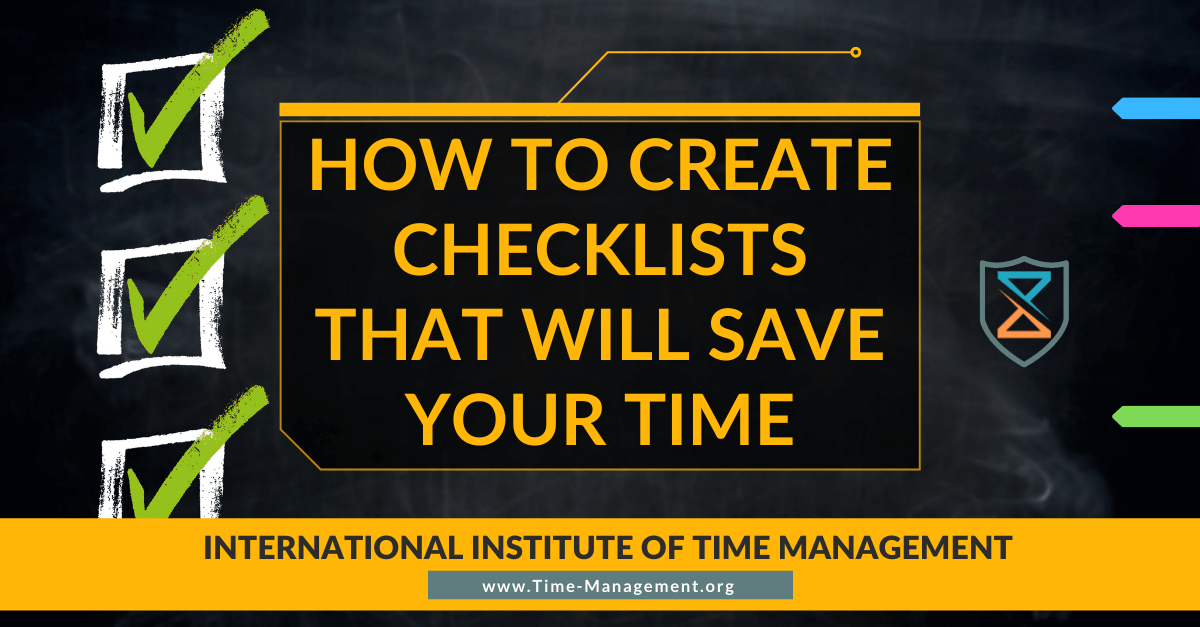 How To Create Checklists That Will Save Your Time
How To Create Checklists That Will
Save Your Time
Everything we need to know about Checklist to save time and boost productivity
The checklist is a great aid for completing tasks, which decreases the chances of failure by compensating for the capability thresholds of human attention and focus. It is employed to surpass consistency and integrity in the completion of undertakings. The idea of the checklist is quite modest, but it has a profound impact on accomplishment and setback avoidance. Most of the negligence we commit can be avoided if we follow the checklist. It can make us more standardized for better teamwork. A checklist is basically a layout created to keep records, remind oneself of repetitive activities, and list requirements in an orderly and systematic manner. It's actually the step-by-step way to get a task completed and/or goal achieved.  
We all have some busy weeks when we have plenty of work jumbled up into a big stalk and little time to cover it up. We would love to have a method that could help us manage that overwhelming pile of tasks in this hour of need. The most desired tool is a simple checklist that can assist in checking the completion of routine tasks and ensuring that we do not miss anything.
We need a checklist to carry out important activities so that we do not forget any step or requirement for completion of certain duties. Whenever we do something that involves many steps, there is the prevalent possibility that we will miss one or two. Here is where the checklist comes in handy. So, if we do something repeatedly and we want to do it right every time, a checklist in combination with the template is an indispensable tool. Checklists are worthwhile to save a plethora of time as we do not need to remember steps every time, hence, we can devote all time to the task with full attention. The checklist enables us to delegate tasks confidently and effectively. It is an effective way to make our lives simpler and more productive. It encourages performing sufficiently in a limited amount of time and retains a record of tasks and deadlines while ensuring getting work done correctly.
It is very evident that when we have a lot on our plate, a bunch of tasks to do, a multitude of things to manage, we tend to miss out on important points. The checklist acts as a reminder, a way of prioritizing tasks essential to doing and scheduling every initiative. Checked off items as we progress, help us identify missed items or fall behind on them. It enables us to stay on top of our priority tasks.
The Checklist motivates us to take action and finish tasks. It could be associated with an immense feeling of satisfaction when we finish off a long checklist of tasks to do. Checking off items on our To-Do List gives us a blissful positive feeling that motivates us to do more (it causes chemical changes and a portion of dopamine to be released). Every time we experience even a small amount of success, we tend to feel happy, which makes us eager to repeat the experience as every happiness or small accomplishment results in the release of dopamine. Keeping track of daily chores and completing them in a yielding and worthwhile way with fewer emissions improves productivity. It helps us speed up the process of working and improves time management and enhances productivity. Another important benefit of the checklist is that it permits us to be more creative and imaginative about the possibilities of doing a task as it frees up our minds from unnecessary contemplations.
All the multitude of privileges mentioned is sufficient to make us believe in the importance and efficacy of making a checklist. To achieve the maximum of the described advantages, we must know how to make an effective checklist keeping in mind all necessary considerations to save time and become productive.
Each task must be clear, coherent, and succinct. It makes it easy to understand for you as well as for other people who will work with you.
Items should be organized properly by emerging categories. It will aid you in navigating diverse sections quickly.
The checklist should be simple and easy to comprehend. It should consist of simple strides that should be straightforward and easy to follow.
We should keep refining the inventory for the sake of continuous amendments and improvements to make our checklist practical and productive.
Doing a "brain dump" is really crucial to creating an effective checklist. It is entirely helpful to sit down and brainstorm and jot down everything that needs to be done.
Make it as comprehensive as reasonable. Do not get overwhelmed, as we can always abolish unnecessary and fewer prerogative tasks.
We need to properly organize and prioritize muddled duties so that they make sense in the checklist, are easy to comprehend and act upon.
The checklist should be unbiased and open to questions about every task's priority and urgency.
The checklist should make progress towards the objective of making it.
An effective checklist should have a clear objective, logically structured, and self-explanatory.
A good checklist should be precise and include all steps to get the task done or the goal achieved. 
It should be concise and practical and should not have so many steps to create confusion.
It should be clean to look at and easily accessible.
Making and abiding by the checklist is proposed because it saves time as it eliminates confusion from oscillating between what to do ahead. We can create a checklist for the number of tasks by priority and urgency. When they are created, if the activity is going to be repeated, you can modify the checklist and transform it into the Template Checklist. It is always good to glimpse what has to be executed and hit the list with a sense of urgency. It is noted that some people find it super useful to make a checklist of tasks for the subsequent day before going to bed. It makes it easier to go to sleep and not worry about what they have to wake up to. Atul Gawande in his bestselling book The Checklist Manifesto addresses familiar ground with his experience as a surgeon. He emphasizes the use and potency of using a checklist to save time and the risk of error when it comes to doing tasks fruitfully.
In a nutshell, checklist making and following it brings creativity by saving time that is spent on thinking about the next step to take and the next task to get done. It helps us be productive and innovative. It assists better time management and maintains the consistency of good work. It is a convenient way of preventing human errors and mishandlings. It helps to maintain focus on the goal. It is a worthwhile resource to save time and energy. If you would like to have a professional consultation and assistance with creating the checklist or the template, that will save you time, please write to us. The International Institute of Time Management offers you life-changing training in time management and task prioritization. We do cover checklist-related concerns that can enhance and boost your productivity to the maximum. For further details, check out the course: Time Management That Actually Works – Backed By Science. Learn, practice, and get certified! 
Looking for the Best Time Management and Productivity Growth Courses?
There is no time to waste!
The Premium Time Management and Productivity Booster Online Courses are for leaders who want to be able to effectively manage their time, plan, and achieve their goals and objectives, also for Individuals and leaders who want to learn how to prioritize and make effective, goal-oriented decisions in the shortest time possible. 
Tag:Automation, Best, Better, Boost, Business, CEO, certificate, Certification, Certified, Checklist, Course, Courses, Decision, Free, georgetumanishvili, Hacks, howto:, Improvement, Increase, institute, International, Learn, Management, Manager, Master, Online, Optimization, Planning, Power, Practice, Productivity, Psychology, Routine, Schedule, Skills, Step, Success, Task, Techniques, time, TimeManagementInstitute, tipsandtricks, Training, Tricks, Work